SLR35/Joe Careta
9214 Casa Grande Ave
Englewood FL. 34224
No Walk Ins, No phone calls, Please use email
Film Cameras Only, No Digital Cameras
My name is Joe Careta and I have been a full time camera repair technician since 1975, working in Boston MA. Stamford CT. Providence and Warwick R.I. and now semi retired in Englewood Florida
I was a factory authorized Canon camera repair technician for over 12 years with many factory training seminars.
Repairing Cameras Since 1975
Over 20 years on the internet.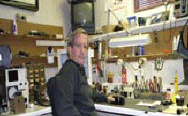 Fast turn around on repairs.
No Charge Estimates

I usually have Canon AE-1s and Canon AE-1 Programs for sale.
The difference between Canon AE-1 and Canon AE-1 Program
Canon AE-1 came out in 1976 and is a manual and shutter priority camera. It has a analog type meter needle in the viewfinder.
The AE-1 Program came out in 1981 and is a Program , shutter priority and manual camera and it has LEDs in the viewfinder.
That is the main difference
There are a few more minor differences. The AE-1 has a 1 and a half stop backlight button and the Program doesnot but it does have a meter lock button.
The AE-1 program has user changeable focusing screens; the AE-1 does not.
They both have an on off switch, a self timer, a depth of field preview button, a battery check button, hot shoes and a pc connection, shutter speeds to 1000 in both, but the Program has a 2 second speed.
Both use 6 volt batteries, and accept a motor drive or winder.
The AE-1s ASA or ISO goes from 25 to 3200 and the Pro goes for 12 to 3200
In the manual mode.
When using it in the manual mode you look through the viewfinder and see what the meter says the aperture should be for the shutter speed you have set. Then if you agree with the meter, you set the F stop on the lens and focus and shoot.
In the shutter priority mode
You set the shutter speed you want and the lens on A or auto. If you agree with the aperture in the viewfinder you can just focus and shoot and it will set the aperture automatically.
In the Program Mode, AE-1 Program only
You set the shutter speed to program and the lens on a and every thing is done focus and shoot.
There is much more to using these cameras but these are the main differences.
All Cameras and Repairs are Fully Warranted for 6 months
Typical Film Camera Repair
Do not send any money, let me estimate it first.
Check or money order in the US only
Send it to me and I will send you an estimate by email, after that I will send a Pay Pal request for payment or you can send a check or money order.
Pay Pal is the fastest way
Right now with the Coronavirus I am not opening packages for 3 days.
Most repair\\\\\\'s will take around 2 weeks.